Parente secures double pole positions for both races at Croft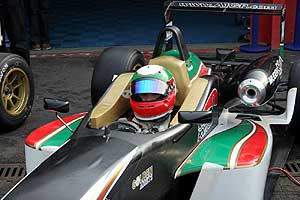 Alvaro Parente (Carlin Motorsport) set the quickest time again in the second qualifying session to secure a double pole position at Croft.

Parente set a fastest lap of 1:14.639 in his Dallara F305 Mugen-Honda in another closely fought qualifying session between the top three. Parente was followed by Mike Conway (Fortec Motorspot), who was 0.059 seconds behind the Portugese driver in first qualifying, and only 0.093 seconds off pole in the second session. Christian Bakkerud of Carlin Motorsport came third, with a time of 1:14.838.

Championship leader Danilo Dirani had gear selection problems and had to spend some time in the pits while his mechanics were solving the problem. Dirani qualified in sixth position in the end, setting a time of 1:15.194

Charlie Hollings (Promatecme) led the field in the National Class with a time of 1:15.406, closely followed by P1 Motorsport's Salvador Duran in the Dallara F304 Mugen-Honda and Barton Mawer from T-Sport.

The second session was also briefly red-flagged, after Hitech Racing's Tim Bridgman had to park his car coming out of chicane one due to mechanical problems.

After Josh Fisher's crash in the first qualifying session, Team SWR managed to get the car ready in time for the final session. Fisher finished sixth in the National Class, which means he will start tomorrow's second race on the 20th position overall.