Mike Conway secures his first F3 victory at Croft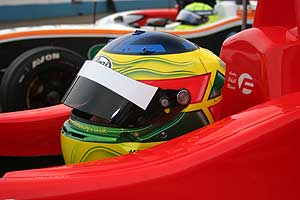 Fortec Motorsport driver Mike Conway won the first race at Croft on Sunday lunchtime after a great start from second place on the grid. After a second and a third place at Donington Park two weeks ago, Conway is now the new Championship class leader. Marko Asmer (Hitech Racing) finished the race in second place ahead of pole sitter Alvaro Parente of Carlin Motorsport. Parente had a poor start due to clutch problems in the warm-up lap.
Salvador Duran (P1 Motorsport) won the race in the National Class, ahead of Barton Mawer of T-sport and Team SWR's Josh Fisher.






The race was full of action right from the start, with Tim Bridgman unable to make it to the start as his engine broke down on the way out of the pit lane. Stephen Jelley (Menu Motorsport) and Promatecme's Stephen Kane had contact at the start, which caused both cars out of the race. Dan Clarke (Raikonnen Robertson Racing) and P1 Motorsports Danilo Dirani came together coming towards Tower, which saw both cars retiring from the race. The Safety Car had to come out after the accident to remove the debris of Dirani's car.
Like the first British GT race on Saturday afternoon, the weather played a key part in the result with light rain and hail storms making conditions difficult.