Australian F3 race winner Marshall moves to Champ Car.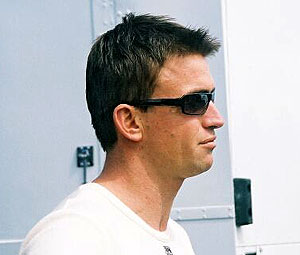 ADELAIDE, SOUTH AUSTRALIA, (Saturday, 26th March, 2005.) ADLEIADE-BASED Australian Formula 3 operation, Team BRM has produced two championship winners and a whole heap of success for its drivers since it began competing in Australian Formula 3 in 1998 – and now it has had a guiding hand in the career of Australia's latest successful international export: Marcus Marshall.
Marshall - who last weekend confirmed that he has signed to compete with successful Champ Car operation Walker Racing for the 2005 Bridgestone Presents the Champ Car World Series powered by Ford - competed with team BRM in two out of the eight rounds that made up the 2004 Australian Formula 3 championship finishing sixth on the seasons' points tally.
It was his drive at the Lexmark Indy 300, though, that pushed him into the spotlight in front of the American teams - the 26-year-old Queenslander crushing a competitive field by taking pole and winning all three races in front of the watching Champ Car teams and management.
Team BRM owner, and chairman of Formula 3 Australia Bronte Rundle said that Marshall's leap to one of the world's premier open wheel series' was a great advertisement for Formula 3 Australia.
"Australian Formula 3 and team BRM are delighted to have had a hand in developing Australia's latest International export," said Rundle. "Marcus is a true talent, and will go very well in the Champ Car World Series this season.
"We had the pleasure of working with Marcus last year for two rounds, and to witness the change between the start of the season (In Adelaide) and when he came back to BRM at the Gold Coast was fantastic. He had really developed as a driver and really showed how good he could be in what was a very competitive field.
"He ran with us at the Gold Coast with the sole intention of showing what he was capable of in front of the visiting American teams and there is no doubt he was able to achieve that. It's a credit to him that he has been able to follow it up and gain a seat in a very competitive top level championship series like Champ Car."
Rundle said that Marshall's graduation to the ranks of the Champ Car World Series was proof positive that Formula 3 in Australia remains the best place for young drivers to develop their talent before heading overseas.

"People like Will Power, James Manderson and Karl Reindler and now Marcus have all used this category in Australia as a stepping stone to bigger and better things either here or in Europe and America," he said. "The drivers we have in this series this year will also be looking to do the same thing, because they know that if you are successful in Formula 3 racing there is a very high chance that you will be successful elsewhere."
Marshall will make his Champ Car World Series debut at the Toyota Grand Prix of Long Beach in California on April 10th, whilst the next round of the 2005 Kumho Tyres Australian Formula 3 championship will be held at South Australia's Malalla Raceway a week after on April 16th and 17th.