Alvaro Parente secures pole position in qualifying two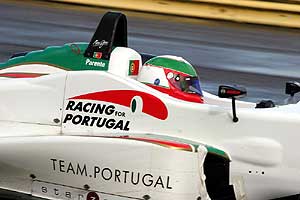 Carlin Motorsport's Alvaro Parente secured another pole position, his fourth in a row, by setting a best lap of 54.015 in the second qualifying session at Knockhill.
The session was run in very wet conditions, which saw a number of cars spinning off and even struggling for grip on the straights, where the cars suffered from bad aquaplaning. The session was briefly red-flagged mid-way through the session after Edenbridge driver Cheong Lou Meng spun the car into the gravel and had to be removed to a safe position.

Ryan Lewis (T-Sport) came within 0.002 seconds of Parente's time, but was unable to better the Portuguese driver's time and finished in second place, with Hitech's Marko Asmer third with a best time of 54. 255.






P1 Motorsport driver Salvador Duran was fastest in the National Class, setting a time of 54.826, which saw him finish ahead of Team SWR's Josh Fisher and Charlie Hollings (Promatecme), who after four pole positions in a row, finished the session in third position with a time of 55.075.