25.06.2003 (roe, insightf1.com)
ROBERT DOORNBOS AND GHINZANI IN MARLBORO TEAM AT THE MASTERS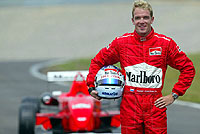 Dutch Formula 3 driver Robert Doornbos will compete in Marlboro colours during this years Marlboro Masters of Formula 3. Philip Morris International will sponsor the Italian Ghinzani Team during that event which will be held in the beginning of August. Doornbos, team member since 2002, and his Portuguese colleague Alvaro Parente will drive the cars with the red and white livery.
Nowadays experience in carting is almost a prerequisite to be successful in autosport. It is therefore remarkable that the star of Robert Doornbos (Rotterdam, 1981) is rising. When Doornbos was young his passion was playing tennis. This all changed when he and his father were invited by Williams to visit the 1998 Belgian Grand Prix. Robert did not know what to expect but at Spa-Francorchamps he got hooked to the sport. Impressed by the speed, the sound, and the smell of the cars he went to see Jacques Villeneuve that Sunday morning. Doornbos had only one question for the reigning World Champion: 'What do I need to do to get behind the wheel of a Formula One car?' The answer was quite simple: start soon and drive as much as possible.
Doornbos immediately registered for a racing course, but his parent insisted he finished his Havo education first. In 1999 he debuted in the British Opel Lotus Winter Series. In this series he immediately scored four poles, four fastest lap times and four victories to finish runner-up in the championship. In 2000 he switched to Formula Ford in which he finished fifth in the Benelux championship and second in the Belgian series. In the same period he finished the first year of his Business Management education in Antwerp.
Today Doornbos fully concentrates on his autosport career. After a season in British Scholarship Formula 3 in which he won a race twice, he switched to the German Formula 3 Championship in 2002. In this series he is part of the team of former Formula One driver Piercarlo Ghinzani. With already three podium finishes in his first 'real' Formula 3 season, Robert shows that experience in carting is not always necessary. Due to his enormous will power he is able to fight with star drivers like Gary Paffett and Ryan Briscoe.
During last years Marlboro Masters Doornbos surprisingly qualified sixth for the main race. Unfortunately he was eliminated in the warm-up lap by fellow Dutchman Stefan de Groot who hit Robert from behind. This year Doornbos wants to show the world what he is capable of. Together with Team Ghinzani he switched to the new European championship format, the Formule 3 Euroseries. On advice of Piercarlo Ghinzani with whom he has a great relation, Doornbos moved to Viareggio last year. There he follows a balanced training program from Ricardo Ceccarelli, founder of the famous institute Formula Medicine. He is not the only one: Ryan Briscoe, the favourite for the title and test driver of the Toyota Grand Prix team has the same daily routine just like several Formula 3000 drivers. Ceccarelli is also linked to the Toyota Formula One team and works in a scientific manner to optimize the physical condition of his drivers. He also offers his drivers language courses.
One characteristic Robert Doornbos possesses in a great amount is his compassion. He knows his lack of experience gives him a disadvantage but he refuses to let it rest. He sees himself as inhabitant of Rotterdam which means his motto is 'let deeds do the talking'. Doornbos does not know where his career will lead to and refuses to talk about Formula One already. His first aim is to do well in the Formula 3 Euroseries and the Marlboro Masters. If he performance well there, the right doors will open itself.